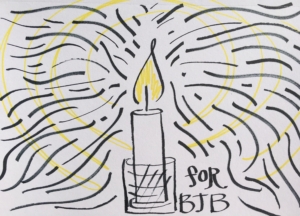 By Emily Soccorsy
It was October of 2010. I had a good job, a loving husband, two healthy daughters, a home and a supportive extended family nearby.
On paper, life looked good.
After stepping out of journalism two years prior following nearly a decade in the field, I had broadened my business skill set in a boutique PR agency, whose owner I considered a friend.
I had amassed a grab bag of new skills: pitching to the media, building a social media presence and ghostwriting. I had also learned how to strategically market businesses, not just to the press, but also to their customers. Through my work in branding and marketing with a variety of businesses and with business owners, I had thrived on inventing creative ways to enhance brand recognition.
But the truth was, standing at the beginning of my 30s, I was a bit adrift in my life.
My mother had been fighting pancreatic cancer for a year. The fight was not going well.
In the wake of the economic downturn, my pay had been cut, and my position with the firm was in a holding pattern.
Dropping my daughters off at daycare each day was getting harder and harder.
While I maintained my love of writing by authoring a blog to help keep family and friends abreast of my mom's cancer fight, I missed writing professionally. I missed leading a team, I missed feeling like I had control over my time and my direction. I had begun to want something different.
As I slid down this jagged slope of my life, I found a toehold in the idea of writing again. I decided to reach out to a few contacts to see if I could pick up some freelance writing projects on the side.
My very first assignment was to write a story about a new entrepreneurial incubator that was opening in a business district in town.
The project was a canteen of water to a parched soul. To have the opportunity to write again quenched something inside me I hadn't realized was thirsty.
But it would prove to be even more significant than that.
The source the editor gave me for the project was a local CEO named Bill J. Bonnstetter.
I knew from the moment I walked into Bill's office that he was special.
Bill had a twinkle in his eye, and a youthful enthusiasm and a bright, challenging mind that immediately endeared me to him.
Sitting across from him at his small and cluttered conference table, Bill and I visited about his vision for the entrepreneurial incubator, about why he had moved his business from Iowa to Arizona and about the work that he was most passionate about. I took fastidious notes and asked keen questions.
As the interview carried on, Bill asked about me. I shared with him about my background and my current position, and was honest about my feelings about the holding pattern I was in.
There was a spark between us, a connection. I remember that moment very clearly.
I recall the sense of knowing that flooded through me, the smiles we shared, the comfort and crackle of our conversation. In his office with the curved walls and the grand art and the large windows, I knew there would be much more work done between us.
Eight months later, I received a call from Anne Klink, Bill's executive assistant.
She said Bill would like to meet with me.
From there truly began a beautiful mentorship, friendship and mutual admiration club.
At first, I met with Bill every other week. He would share ideas and I would bring them to fruition in the form of ghost-written articles, white papers, books or his thoughts published in local and national publications. He would dream and I would catch his dreams and formulate them into strategies he would decide to pursue or place to the side. It was such an honor and a pleasure-rich meeting of the minds.
I became his written voice. I knew how to capture his ideas, in his tone, and share those precious gems with the world. It was as if all of the writing, the leading, the editing, the honing of the written word and all my work with dozens of reporters, sources and clients up until then had uniquely prepared me for this role.
When I was able to amplify Bill to the world, it was so incredibly rewarding because it was a level of notice that Bill deserved. From the moment I met him I became absolutely convicted that it was an injustice he was not more widely known or recognized. It was an aspect of his business that had eluded him – and he was not a man who enjoyed things that eluded him.
Providing this platform, this amplification, of him, his organization and his ideas was a deep, honorable and powerful joy to me.
As our relationship unfolded, I grew and Bill always encouraged me. He always believed in me and always invested in me – mentally, emotionally and professionally.
He always reminded me of what was truly important and we shared that belief between us.
Even when we would have difficult conversations or challenging moments, I appreciated the exchanges, even if they were emotional. I found they forced me outside my comfort zone and compelled growth. Bill was good at doing that for others. I suspect he offered that skill up in the service of others' growth, even if that growth did not benefit his own interests.
I spent five years working with and alongside Bill. What I learned from him about business, life and work is almost too immense and pervasive to completely articulate.
What I learned about me from him is as grand as the span of stars. What he gave to me either altered the course of my journey or put me on track to live a story a lot bigger than I had begun to think was likely or feasible for me.
But that's just me.
What Bill did for this world is nearly indescribable and rarely witnessed. Bill took an idea, a passion, a message, which was placed upon his heart, and spread it to millions of hearts, minds and souls. As a businessman and entrepreneur, he achieved the prize – he took his calling and extracted the maximum value for it. Because he suffered, but believed; sacrificed, but persevered; trusted when others urged doubt, invested when he might have saved, collaborated when others told him to hoard his own share, was vocal when others advised him to be quiet, spoke truth when it would have been easier to sugarcoat, he created a wave in this frenetic ocean of life. This massive wave was his message to the world.
And his message to the world was: you matter.
Your unique self matters. And it's beautiful. And good.
How you work, why you work, it matters. Your purpose matters. Your mechanics matter.
And here's the kicker (because Bill always had a kicker): The first person it needs to matter to — is you.
So go get in touch with you – then give you back to the world.
The last time I saw Bill, he was in hospice, semi-awake, struggling to share his final thoughts for us to convey.
As I prepared to leave my mentor, guide, friend and advocate, I held his hand and shared my heart about how much he meant to me. I told him quite simply, "You are the best, Bill."
He grinned and said he disagreed, but would accept the compliment today.
And then he told me one more thing: "Go shine your light," he said.
Go.